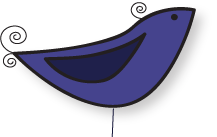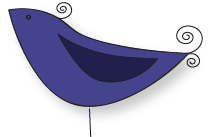 This page is intended to help you if you're considering becoming a stockist of Inky Doodles products.
Values and approach

As a former shop retailer myself, I know how important it is to get the right product at the right time and to be in tune with your customers; some will want to touch and feel product, to receive instant retail gratification as well as your knowledge and advice; others just want the best deal. And it's all fine. I believe there is space for all kinds of retailers in papercraft - online, shops, fairs, markets, print and TV media - as well as an obligation to give people information, entertainment and choice, so that ultimately hobby grows as people discover and have fun with it. If you feel the same, I'm sure we can work together.

What we offer

I am an independent designer and online-only retailer with a TV retail partner. All the stamps are drawn myself, so the designs are unique and owned by me.
We currently offer A5 / A6 and smaller format branded hanging retail cellophane packs with artworked card inserts and printed acetates which show off the bright, clear, highest quality unmounted photopolymer stamps.

Selling points

Many of the A5 stampsets contain lots of individual images, up to 33 in fact, this means they are very versatile and carry a high "play value". For this reason, the number of stamps is always highlighted clearly on the pack header. Whilst the styles vary - contemporary, fresh, psychedelic, folky, naive, quirky, cheeky etc - the stampsets are actually very complementary as I have applied a common design philosophy through the range; this means you can expect to sell more than one set to an Inky Doodles customer.

I have also been working on Pattern Print stamps (Argyle, Print Backgrounds 1&2, Country checks etc - see gallery) for making pattern backgrounds and textile effects by overstamping in different colours and positions - these are quite different from anything I've seen and have been attracting a huge interest as people understand the power and versatility of them. TV is a great medium for getting this across with demos on techniques and showcasing the results you can achieve.
What to expect from us

With us you can be sure of fair dealing, fast responses and top quality branded products that we stand fully behind.
Marketing / brand support

Regular appearances on Ideal World Create and Craft TV, where I demonstrate techniques and tips with the latest Inky Doodles designs, help to drive the products and brand as well as promoting interest and skills in the hobby. I debuted in a sell-out show in October 2012 and the response to the products has been fantastic ever since. Appearances are likely to continue for the foreseeable future, probably averaging at least two one hour TV shows a month, plus features in the paper-based craft media. For the latest, click on 'TV Shows' on the menu bar.
Personal appearances to support launches or classes are possible, but I'm very busy right now, so opportunities could be limited.

I would be happy to discuss your requirements and work out some mutually beneficial way of doing business.

Please call on 01905 381540 or email me at sa[email protected] to get the ball - and the sales - rolling.
Sarah.